Business Overview
---
In 2008, after 30 years in the wholesale jewelry business, Jim Fortescue got the opportunity of a lifetime. Renowned marine wildlife painter Guy Harvey selected Fortescue to design and produce a line of jewelry based on his artwork, and Guy Harvey Jewelry was born. Today, the company is known for its beautiful high-end jewelry that has been worn by top models Brooklyn Decker, Anne V, and Bar Refaeli. Guy Harvey Jewelry pieces have graced the pages of the Sports Illustrated Swimsuit Edition while being featured in Fiji, The Maldives, Lisbon, and Singapore.
Guy Harvey Jewelry was initially conceived as a business-to-business (B2B) company that would sell directly to retail jewelers. They launched their website to support this B2B business in 2009, initially selecting 3dcart as their platform. "3dcart was a leading platform at the time," Fortescue says, "and it worked well enough for our wholesale customers."
When they pivoted from the wholesale jewelry business to focus directly on consumers, Guy Harvey Jewelry began to experience significant issues with their 3dcart web store. While wholesalers had been largely willing to put up with a clunky, disjointed website, this was not the case for discerning consumers looking for a seamless shopping experience. As traffic levels rose, significant site downtime was also becoming an issue. Fortescue knew his website needed an upgrade.
Challenge
---
"The 3dcart site was very utilitarian," Fortescue says. "With heirloom-quality jewelry like ours, we needed a more appropriate look and a platform that could convey a higher level of visual appeal. 3dcart just didn't have the flair we needed to sell our product."
Conversion rates were also suffering, largely due to a disjointed checkout experience. "I really didn't care for the checkout flow on 3dcart" Fortescue recalls, "It was confusing, it wasn't very user-friendly, and from the buyer's perspective it was awkward to get to that final checkout button." The effects of this cumbersome checkout experience were evident in Guy Harvey Jewelry's abandoned cart rate, which was rising at a troublesome pace.
The Guy Harvey Jewelry website was also plagued by major outages while on the 3dcart platform. "There were multiple times when critical 3dcart updates completely crashed our site," Fortescue explains. "We would be down for three or four days at a time and lose out on crucial short-term revenue." Fortescue also worried that the outages would impact future sales. "You can't run an online business if customers don't trust that your website works."
Migrating to Miva
---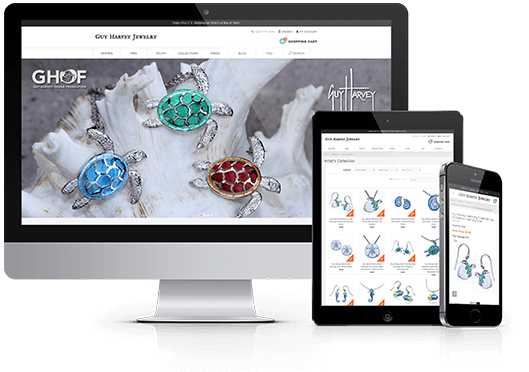 Exasperated, Fortescue began asking for platform recommendations. A business associate suggested that he consider both Magento and Miva, so to evaluate the merits of Magento versus Miva he decided to contact current users of each platform. "I wanted to talk to business owners who had their hands in all aspects of their operations," Fortescue says, "I spoke with a dozen different Miva customers, and everyone I talked to had glowing reviews. I was mostly concerned with their overall satisfaction, and everyone told me that I would love working with Miva."
The outpouring of strong recommendations from Miva users was all Fortescue needed to make a quick decision. "Usually people either love their ecommerce platform or they hate it," he explains. "With Miva, every review was so good. I knew the platform was great from a functionality standpoint, so when I saw how happy Miva's customers were, it made the decision very easy."
Solutions
---
Miva helped Jim Fortescue provide a world class experience for Guy Harvey Jewelry customers by utilizing elegant design features and powerful functionality. "Our new Miva site visually conveys the quality of our jewelry," he says, "and I absolutely love how clean and intuitive the checkout process is."
The site is fully responsive, which means Fortescue doesn't need a separate site for customers on mobile devices. "Miva kept talking about this," he says, "but I didn't realize just how important it would be. With Google's recent update that prioritizes responsive sites, we would have had major problems if we were still on 3dcart."
Results
---
Guy Harvey Jewelry has achieved impressive results with their new powerful Miva website. Sales have increased by 26%, and conversion rates are up 38%, an improvement largely attributed to the new streamlined checkout process. Fortescue is also impressed by Miva's network stability. "Miva's hosting architecture is rock solid", he states. "There's been zero site downtime since our migration."
Moving to Miva has given the team at Guy Harvey Jewelry more control over their ecommerce operations. "I'm using Miva 9," Fortescue says, "and I do all the day-to-day maintenance on the site. I don't have a technical background, but once you learn the steps involved it is very easy to get in there and take care of things. With Miva I can be confident that my site is stable and that it will grow with my business."