Business Overview
---
Longtime friends Ryan Harvey and Mark Patterson started the Bare Bones Broth Company in 2013 to tap into a growing demand for high-quality, nutritious bone broth. Using non-GMO ingredients from pasture-raised animals along with organic produce, Harvey and Patterson began to manufacture and transport the most natural, wholesome broth possible.
Upon launching the company Bare Bones chose to drive sales primarily via their ecommerce website, and saw significant traction within the first year, prompting them to move operations to a larger facility to keep up with surging demand.
The True Cost of "Free" With WooCommerce
---
As a brand new start-up company, Bare Bones Broth was trying to keep costs low. Mark Patterson is responsible for the company's website, and he built the first site using WooCommerce, a free ecommerce toolkit for WordPress. "We were trying to bootstrap the company,"" he says, "so we didn't really have the funds to do anything else."
But while getting started with WooCommerce was relatively simple, the Bare Bones team soon began to encounter major issues with the platform. Limited out-of-the-box functionality made running the company more complicated than it needed to be, and even though WooCommerce was free, Patterson needed to purchase plugins and add-ons to get the features they actually needed. When a major WooCommerce update broke the Bare Bones website, he knew their "free" platform was no longer worth the hassle.
Challenge
---
"Order management with WooCommerce is not the best," Patterson says. "You're running a store on a platform made for blogging, so since it's not built to handle a high volume of orders, it becomes burdensome right away." Ryan Harvey was running the operations side of Bare Bones Broth, and he says WooCommerce cost him ten hours per week in lost time. "It was bad," Harvey says, "especially for what we do where we're shipping hundreds of boxes every week."
Bare Bones also worried about the poor experience customers were having on their website. Since WooCommerce is dependent on plugins for so much of its functionality, stores built on the platform can become bogged down and slow for the end users. "If you're selling online," Harvey says, "the purchasing experience starts when the customer hits your website. So if the site has slow load times, you're giving the wrong impression before the customer even gets to try your product."
Finally, Bare Bones encountered an issue that made the choice clear. "WooCommerce issued an update," Mark Patterson explains, "and when we deployed this new version of WooCommerce onto our store, it broke everything. It was terrible." Tired of building workarounds and worried about site reliability, Patterson knew it was time for an upgrade.
Migrating to Miva
---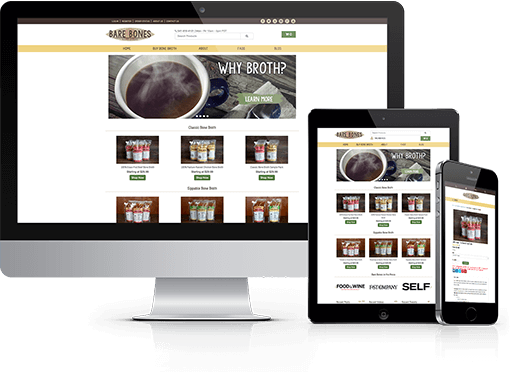 "After doing some research," Patterson says, "Bigcommerce and Miva were the two options I saw out there that would be appropriate for us." He began looking into the question of Bigcommerce vs. Miva. "After exploring both platforms," he says, "I got the sense that Miva's functionality was far more advanced."
Bare Bones Broth chose Miva to launch a powerful new ecommerce website, simplify operations, and help the company grow. Patterson rebuilt the site on Miva and completed the transition in less than two months. The new Bare Bones website went live in September 2014.
Solutions
---
The switch to Miva dramatically streamlined operational workflows for Bare Bones Broth and helped the company provide a premium experience for their customers. "Our order management problems were solved almost immediately when we got on Miva," Patterson says, "because the order management system on the backend is just so robust. With Miva our website is running on a true ecommerce platform rather than on a plugin for WordPress."
The Miva site has plenty of new customer-centric features, including blazing page load speeds, an intuitive checkout process, and a special shipping calculator available from every product page on the site. And along with the powerful order management system, Miva's advanced inventory management and shipping capabilities made running daily operations much easier for the Bare Bones team.
Results
---
On their new Miva site, Bare Bones Broth has seen remarkable growth. Within four months of launching on Miva sales began to consistently top $25,000 per month. "A good month on our WooCommerce site was more like $5,000 to $6,000," says Patterson. "That's at least a 400% increase in our online sales."
Bare Bones Broth has also seen a 27% decrease in abandoned shopping carts, as well as site page load times that are 2.5 times faster than their WooCommerce site. Patterson and Harvey also estimate that the operational efficiencies gained by using Miva save their company 64 man-hours per month.
"Miva has been flexible and powerful enough to do exactly what we need our website to do," Patterson says. "Since we switched to Miva, we know that our website is working for us instead of against us."