Gross merchant sales processed
by Miva Merchant software:
$100 billion
Gross merchant sales processed by
Bigcommerce software:
$4 billion
Questionable Architecture & Development Philosophy
"Bigcommerce is mediocre at best. Nothing of value has been added in the last few years which is going to limit your competitiveness in the ever changing world of internet shopping." - Bigcommerce Customer
---
Software Architecture
Miva's ecommerce platform has been carefully architected, with critical functionality built-in. Bigcommerce has chosen to outsource key functionality to 3rd party providers. This is a partial list of key functionality not available natively on Bigcommerce:

Miva Starter Plan
Includes Miva's entire suite of built-in functionality.
Contact Us

Actual Cost of Comparable Bigcommerce Plan
Bigcommerce Plus Plan
$79.95
per month
+
Additional Functionality
$50.00
ShipperHQ
=
$129.95*
per month
*It is impossible to accurately calculate a cost comparison between Miva and Bigcommerce because Bigcommerce is incapable of the basic features Miva supports.
Now consider the following example of ecommerce functionality built-into Miva's core platform:
Complex Shipping Rules
Bigcommerce's platform has no native ability to manage complex shipping rules. Rather than choosing to build this critical functionality themselves, Bigcommerce has opted to offer it via a 3rd party provider, ShipperHQ (and it's not free – unless you sign up for their enterprise plan). Imagine what happens when this business critical functionality stops working. Who is to blame? Shipper HQ? Bigcommerce? And while they point fingers, your business is crippled.
Vulnerable Hosting Architecture
Miva controls the full hosting stack, managing and backing up every aspect of your ecommerce store.
Contrast this to Bigcommerce's philosophy of outsourcing functionality and infrastructure to 3rd party providers.
"Bigcommerce's templating system was very poorly thought out." – Former Bigcommerce Customer
"[There's] no logic in the [Bigcommerce] templates. This one hurts the most, and it's the one that probably won't change because of the massive amount of work it would take." – Andrew Bleakley, Bigcommerce Developer
"Mr. Bleakley is a developer who specializes in ecommerce with over 1,000 websites under his belt..." – ecommercefuel.com
Limited Flexibility, Scalability, and Access
---
No Template Language, No Logic, and No Conditional Statements
A core strength of Miva's platform lies in our template language; Miva's templates have logic built-into them. This allows Miva's customers to conditionally display elements on their pages, and add functionality.
Bigcommerce does not have a template language, therefore: no logic, no conditional statements, and no custom variables.
Imagine you want to add a promotional banner to a specific category for a sale you are running. With Miva's powerful template language you can create custom conditional statements in the Page Templates that say: If Category Code is equal to "12-string-guitars" display this image.
Because Bigcommerce does not have any logic in their templates, this is not possible using their template language. Instead, you would be forced to create custom JavaScript (and hire an expensive developer) to modify the page source after the page is loaded. Doing things this way also is not good for the search engines, because they only see what was loaded on the page, not the part that was modified with JavaScript.
In the following example, we display a custom "free shipping" banner based on the category: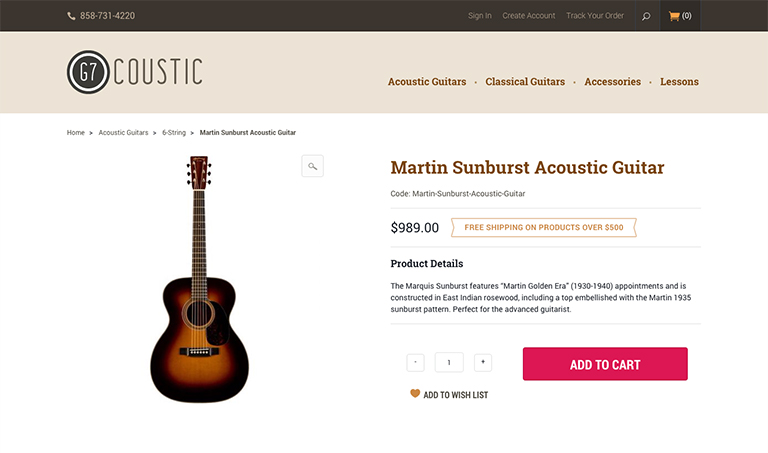 It is impossible to accurately calculate a cost comparison between Miva and Bigcommerce because Bigcommerce is incapable of the basic features Miva supports.
Locked Down Templates
Miva gives customers the ability to modify templates in whatever manner they like. Bigcommerce limits the editing of templates; many areas are "locked down".
---
This example Miva site has a custom label finder, as well as custom attribute layout.
It would be impossible to re-create this in Bigcommerce.
No Server Access
Bigcommerce Customers have no access to their server control panel. They have no database access.
FTP is disabled, forcing you to use a file transfer process called WebDAV.
---
You can see how Bigcommerce thinks about this philosophically given the following quote:
"As a SaaS platform, there are certain things we simply cannot provide. Root-level file access to PHP files is one of those things."

– Jessica Malnik, Bigcommerce
As a SaaS platform ourselves, Miva provides our customers full server control panel access — including the ability to run PHP files.
Dragging Development, Disconnected Support
---
"View their support forums to see the timetable for what the community would agree are 'critical' changes. Store owners are often losing hundreds to thousands of dollars per day waiting for Bigcommerce to make a fix."
– Bigcommerce Customer
"Their transparency is terrible. They cannot provide dates on rectifying SEVERE bugs, some of which we reported up to a few years ago. Their priorities amaze us. A lot of their support is outsourced to Eastern Europe and the Philippines who do their absolute best to not ESCALATE tickets when they are BUGS. I have been told a few times on bugs that "this hasn't been reported by others", implying that certain bugs reported are simply not bugs and it is somehow user error."
– Lukas Schmidt, Bigcommerce Customer
"They never fix anything. They dont listen. The support is a joke."
– Billy, Bigcommerce Customer
Over Promise, Under Deliver
---
"We 'tried' moving to Bigcommerce last year but it was a nightmare to say the least...Be very careful when they sell you on their features...they oversold us grossly and it ended up costing us thousands."
– Chris, Former Bigcommerce Customer
"The product / service they sell is unprofessional and doesn't work as described. They have many issues and errors with their company / product, from bad support to sales people who promise things and don't deliver."
– Larry, former Bigcommerce Customer
"Most of the Bigcommerce platform is pretty broken right now and some of it has been broken since we switched to it. Their sales team likes to promise features that they don't have, and once you get to the platform you find out that it either isn't what they were implying or simply doesn't exist yet...and was a complete lie."
– Current Bigcommerce Customer
Bigcommerce Enterprise?
---
Bigcommerce is Built For Small Scale
"We switched to a Bigcommerce enterprise plan. The process is entirely opaque. They don't tell you what type of box you're on, how much memory it has...nothing. After about a month of us pestering Bigcommerce to see what changes had been made, they finally told us that no hardware changes were made. Absolutely nothing changed, except they charged us more." — Bigcommerce Customer
Data Transfer Issues
One of the distinct advantages of an enterprise ecommerce environment is the ability to import and export data quickly. Miva has a robust data import / export system that gives you access to any data you need, in whatever volume.
"With Bigcommerce, if you go to try and export products, you'll select a page of them, and it'll only export five. And so we called up Bigcommerce, and they say, 'Well, if you adjust the settings to view a hundred products on a page at a time, and then you select all of them, it'll select the first page and export it for you.' So it's all broken, and they have to tell us this really hokey workaround to actually export our products. It's a joke." — Former Bigcommerce customer
Bigcommerce is making a big push to acquire enterprise clients, but given the opaqueness of their ecosystem, limited template language, and how they handle data - it just doesn't add up.
Need Help?
Have Questions?
Join the Tens of Thousands of Merchants Using Miva
Get Started