How Miva Stacks Up Against Magento Community
---

Uncompromising Platform Development
Seamless Enterprise Upgrade Path
Real-time Promotional Rates
Efficient Resource Usage
24/7/365 U.S. Based Support

Limited Platform Development
No Enterprise Upgrade Path
Flawed Indexing
Inefficient and Resource Intensive
No Support
"Magento Community is a huge cow and unless you have a reason other than ecommerce to use it, I would steer clear of it." – Spot13, www.qbn.com
* = Gross merchant sales processed using Miva Merchant or Magento software.
Inefficient and Resource Intensive
"By any benchmark, Magento is 100%, without argument a resource hog (the guys who teach the certification classes for Magento at their headquarters in LA will corroborate that opinion verbatim; watch the training videos)." -Jono Hartman
---
Due to Magento Community's resource allocation model, even a moderately successful store with $100,000-$500,000 in annual online sales would incur an average hosting bill between $250-$650 per month.
No Safe Upgrade Path For Updates / Patches
---
"I tried upgrading from 1.7.0.2 to 1.9 and it failed horribly using Magento Connect. I tried using the Rollback feature and it broke it even more. I backed up all of my files and database. I wiped out the original installation directory and copied all of my backups accordingly. The basic look of the site is there, but nothing works."
Source: http://magento.stackexchange.com
Magento periodically releases updates to Magento Community. Upgrading to the newest release is a manual, time consuming, and complicated process, as follows:
Download and install the latest version of Magento in a development folder.
Backup site database, copy to a new database, and run the database upgrade script to make any required database changes
Move theme and any extensions
Upgrade extensions
Move all media (images, etc.)
Move encryption key
Once everything is setup and working on the new version, swap the development and live store
Miva provides a safe streaming upgrade system, guaranteed never to break your store. Our upgrade process validates all steps to ensure they will complete before making any changes to your actual store. Each step is logged as it is completed so if, for example, the upgrade was interrupted by closing a browser, etc., Miva notates this and can resume from the point of interruption.
No Enterprise Upgrade (or Downgrade) Path
---
There is no upgrade path from Magento Community to Magento Enterprise – a maturing merchant requiring critical enterprise features and support has no choice but to 're-platform'. All development work done prior to the re-platform cannot be carried forward.
In addition, a Magento Enterprise license now costs $22,000 a year + hosting.
One of Miva's inherent strengths is that we include all enterprise features in all our plans. Additionally, our point and click upgrade path guarantees you'll be able to safely upgrade to the newest version of Miva forever, at the click of a button.
Flawed Indexing
---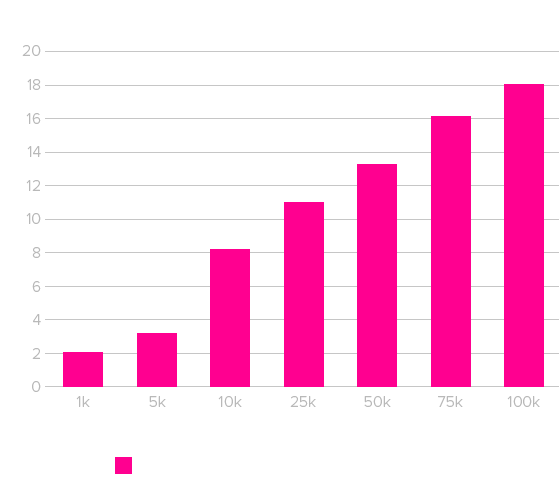 Miva calculates promotional rates in real time, instantaneously.
Magento Community utilizes a concept called indexing-pre-calculating promotional rates and storing this information in a database to limit the amount of processing the software does in real time. In theory, this process should save time and enhance performance.
However, the indexing engine is broken:
"I have wasted a year in Magento and its extensions and it's extremely inefficient and idiotic data architecture that makes an ecommerce site with a mere 10k plus products crap out. All these warnings should have been given to anyone beginning to use Magento Community Edition. Magento owners should be taken to court for wasting thousands of man hours. I advise that instead of wasting money on a dedicated server and then tons of overnight sleepless work hours, better to move to a hosted ecommerce platform."

– Magento Developer
No Technical Support
"Technical support from Magento is not available for Magento Community members." – www.customerparadigm.com
---
If you have a problem using Magento Community your only option is to:
A
Hope your host can help troubleshoot the issue.
or
B
Pay a Magento developer to solve the problem.
Miva's U.S. based technical support team is on hand 24/7/365 to provide answers and solutions for your pressing ecommerce needs.