Miva Merchant Features with UPS Ready
Enterprise-Grade Merchandising
New discounting & marketing engine includes coupons, volume pricing, free shipping & more.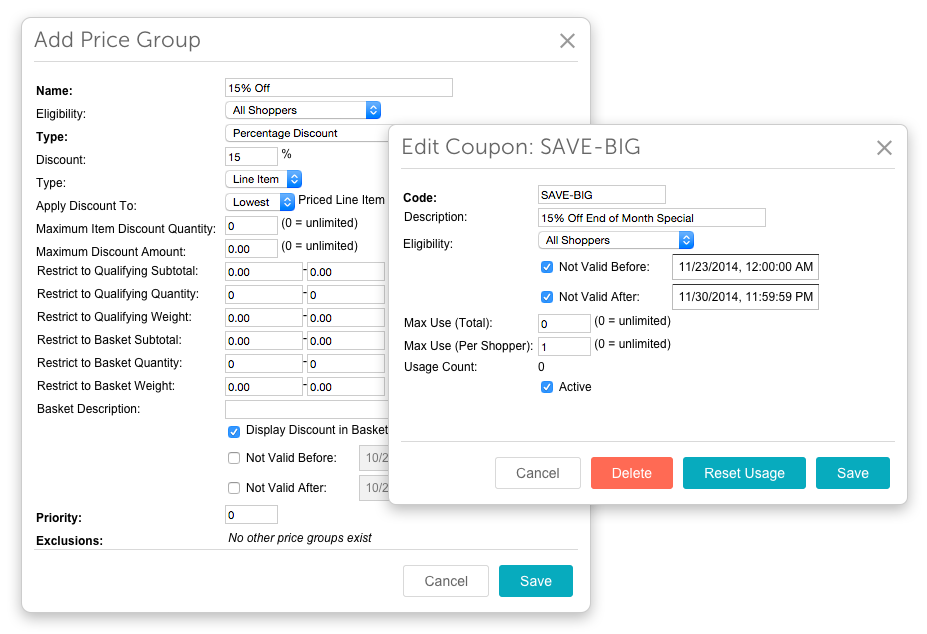 Store Design / Setup
Everyone wants their store to be beautiful, so we've made a CSS template-based system that any developer or designer in the world should feel right at home using. We provide dozens of CSS-based themes to use as a starting place, including support for a fully responsive Bootstrap 3 framework. We give you complete control over the HTML, CSS and JavaScript to build the store of your dreams.
When building your site you have multiple options:
Create a responsive site using our free Bootstrap Theme
Begin with one of these free standard themes
You can start with a basic blank CSS-based structure
Use our Professional Services team to design & build a complete online store or provide assistance on an as-need basis
Hire a Miva Certified Developer to assist you in your site build.
Learn More
100% HTML5 page-based templates
Full control of CSS
Full access to JavaScript
Tokens and if / then logic supported
Bootstrap 3 support

Product
Category
Order
Customer

PA-DSS checklist
Configure SMTP server
Backups
Easy WordPress integration
Video tutorials for common tasks
Shopping Experience - B2C and B2B Ready
A shopper's experience is crucial, and your store has to be more than just a pretty face. Miva Merchant has it all, including special Business-to-Business features out of the box.
Learn More
Multiple (unlimited) photos
Built-in lightbox feature
Clear inventory messaging
Mini-basket
Photos in cart page
Custom sorting on best selling, lowest price, highest price, newest items

Special pricing based on user login
Special products based on user login
Unique content based on user login
Checkout Experience
Checkout is what makes ecommerce sites more complicated than normal websites. We take the pain out of checkout for you and your customers. Checkout flow can be completely optimized for any unique business needs, including One Page Checkouts, 2 Step Checkouts or more traditional 3 and 4 Page Checkouts. No two businesses are alike, and their checkout processes shouldn't have to be either.
Learn More
Order minimum
Upsell based on basket
General upsell
Unique customer-based pricing

For easy return visits
Allows real time phone support / basket assistance
Automated order status updates
Easy reordering

USPS
UPS
FedEx (SmartPost and freight)
CanadaPost

Flat rate
Zone-based
Weight-based
Price table-based
Quantity-based

Chase Paymentech Orbital (Tampa and Salem)
Authorize.net
Payflow Link
Payflow Pro (hosted and direct)
QuickBooks Merchant Services
CyberSource
First Data Global Gateway (Linkpoint)
Amazon Payments
PayPal Standard
PayPal Advanced
PayPal Pro
PayPal Express Checkout
PayPal Bill Me Later

Credit card with simple (Mod10) validation
Check payments
Purchase order payments

Avalara
Accurate Tax
TaxCloud

State-based sales tax
Canadian VAT
European / international VAT
Generic / custom sales tax
Back-end Automation and Productivity / Efficiency Features
The more you grow, the more you will want to automate. Miva Merchant is ready to "talk" to the most popular SMB and Enterprise-level systems. Connect your ERP, Accounting, CRM, Fulfillment Center or more to Miva Merchant and streamline your operations.
Learn More
Miva Merchant Synchro (QuickBooks Pro, Premier and Enterprise)
Atandra T-HUB (QuickBooks Online, POS, Pro, Premier and Enterprise)
SAP Business One
Sage Accounting Products
NetSuite
Dynamics
and more

Chase Paymentech Orbital (Tampa and Salem)
Authorize.net
Payflow Link
Payflow Pro (hosted and direct)
QuickBooks Merchant Services
CyberSource
First Data Global Gateway (Linkpoint)
Amazon Payments
PayPal Standard
PayPal Advanced
PayPal Pro
PayPal Express Checkout
PayPal Bill Me Later

USPS
Endicia
UPS
FedEx
CanadaPost

USPS
UPS
FedEx (SmartPost and freight)
CanadaPost

Monsoon Stone Edge
ShipWorks
Dydacomp's Mail Order Manager (MOM)
ShipStation
4Psite
Ordoro

Any ERP / CRM / Fullfillment house
XML
EDI
JSON API

Product
Category
Order
Customer

Product import / export
Category import / export
Inventory import / export
Shipment status import / export
Customer account import / export
Order export
Affiliate export
MultiChannel Marketplaces
In this day and age it's vital for ecommerce store owners to get their products seen by potential customers. One of the best ways to do that is to list your product catalog in popular online marketplaces like eBay and Amazon (coming soon). Miva Merchant makes that simple to do, all while managing your inventory and orders from one centralized admin.
Learn More
Create multiple listings per SKU
Unique descriptions, titles and prices
Round trip order management
Inventory
Miva Merchant offers industry-best inventory tracking of a product, including products with variations / attributes like size and color, etc. Unlimited depth of product options and / or kit-building allows for the power to manage very complex inventory sets and never worry about unexpected back orders or customer dissatisfaction.
Learn More
Track inventory on products or any product variation combination like size, color, etc.
Amazon-compatible inventory strategy
eBay store-compatible inventory strategy
Email notifications to store admins on low stock threshold

Out of stock, not available to order
Out of stock, backorder for later delivery
Custom message
Number in stock

Manually through the store admin
Inventory import / export
Drag-and-drop spreadsheet for update
Perfect for one-of-a-kind or limited edition products
Store Administration Features
Allow one or more administrators access to all or part of the admin system, giving them enough access to do their jobs while keeping security tight. Our easy-to-use browser-based interface makes it dead simple to add and edit products and categories and run reports on your business, as well as manage orders (including taking phone orders) and shipping and fulfillment.
Learn More
Phone order
Edit / change / cancel order
Discreet shipments
Order tracking (and order tracking notifications to customers)
Take additional payments

RMA generation
RMA tracking
RMA emailing
Easy refunds once an RMA is completed

Create batches of orders or shipments
Bulk process batches
Report on batches
Custom batch actions

Customer order confirmation
Merchant order confirmation
Shipment emails with tracking information
Customer account creation confirmation emails
RMA issued
RMA received
Backorder notice
Custom rule-based emails

Choose currency
Choose unit of measurement
Put store in maintenance mode (temporarily block shoppers)
MailChimp integration
BuySafe integration
Product / Catalog Management
Organize unlimited products in unlimited categories and subcategories. Each product can have unlimited variations (e.g., size, color, etc.), each of which can be assigned specific photos and inventory levels.
Learn More
Unlimited products
Unlimited product variations / attributes (e.g., size, color)
Unlimited categories
Unlimited subcategories
Unlimited custom fields (additional information that can be stored with a product, e.g., dimensions)

Checkboxes (yes / no)
Radio buttons (either / or)
Text boxes (line of text)
Text areas (block of text)
Swatches
Dropdowns (choices)

Unlimited number
Drag-and-drop upload
Auto-resizing
Associate with specific product or any of its variations

By product
By product variation
By kit

Import / export products
Import / export categories
Import / export subcategories
Drag-and-drop import templates
Downloadable Excel-based data templates
High-speed import and export functionality
Reporting and Analytics
Knowledge is power. Miva Merchant helps you understand web traffic patterns and sources as well as customer shopping habits.
Learn More
Google Analytics
Support for all major analytics platforms

Easy at-a-glance visual graphs
Gross sales reports
Product sales reports (including best sellers)
Geographic sales breakdown
Export sales data (CSV or XLS)
Custom reporting by customer, product or category
Unlimited Potential: Beyond Miva Merchant Out of the Box
Anything is possible. We strive to include all the features you might ever need in Miva Merchant, but every business is different. Because of this, Miva Merchant supports ways for developers to make deep changes to the way the store works.
Learn More
Third-party modules available off the shelf for many niche needs
Third-party developer community available for hire
In-house Professional Services division available for custom coding
Free developer program available to any tech professionals interested in building Miva Merchant add-ons and modifications
Free developer documentation
Free developer video tutorials