Brand New Admin Interface
Miva Merchant 9 has a completely redesigned administration interface that has been optimized for speed, usability and touch interfaces.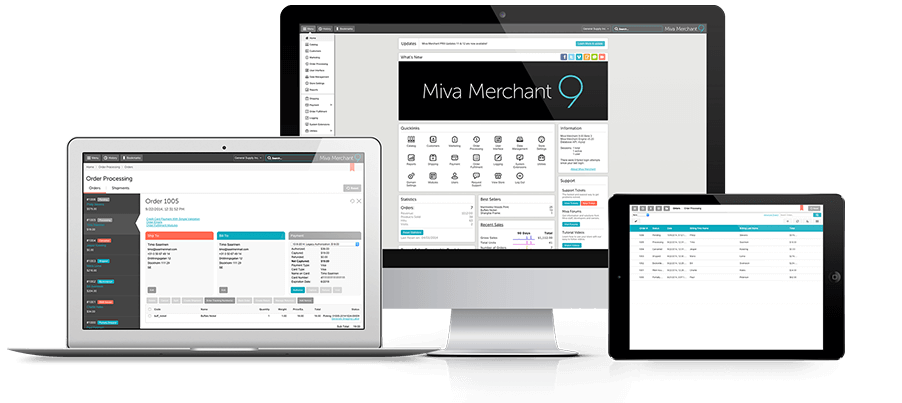 Enterprise-Grade Merchandising
New discounting & marketing engine includes coupons, volume pricing, free shipping & more.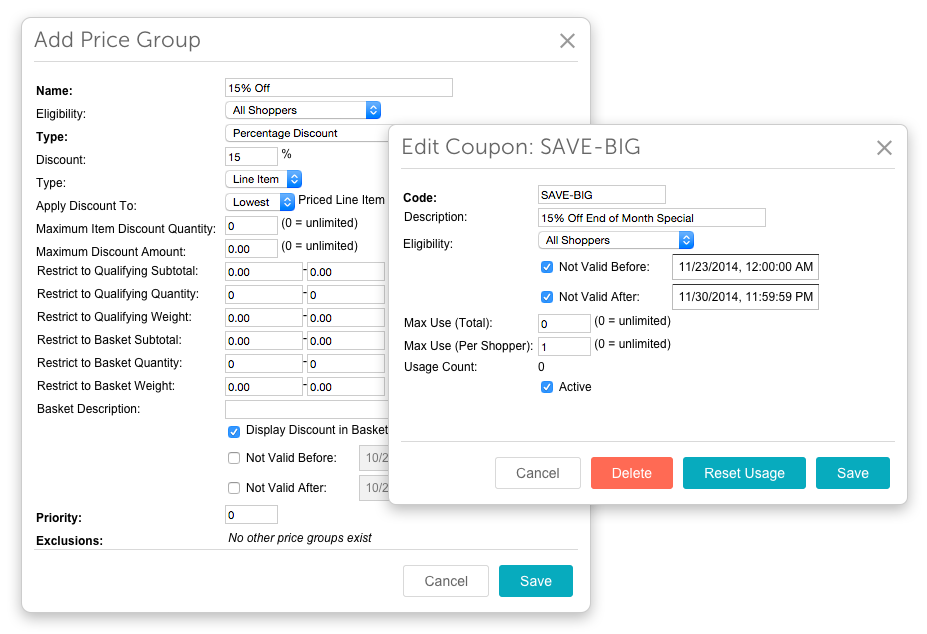 Improved Navigation
Fuzzy search, quicklinks, bookmarks, breadcrumbs and recent history make Miva Merchant faster & easier than ever to get to where you're going.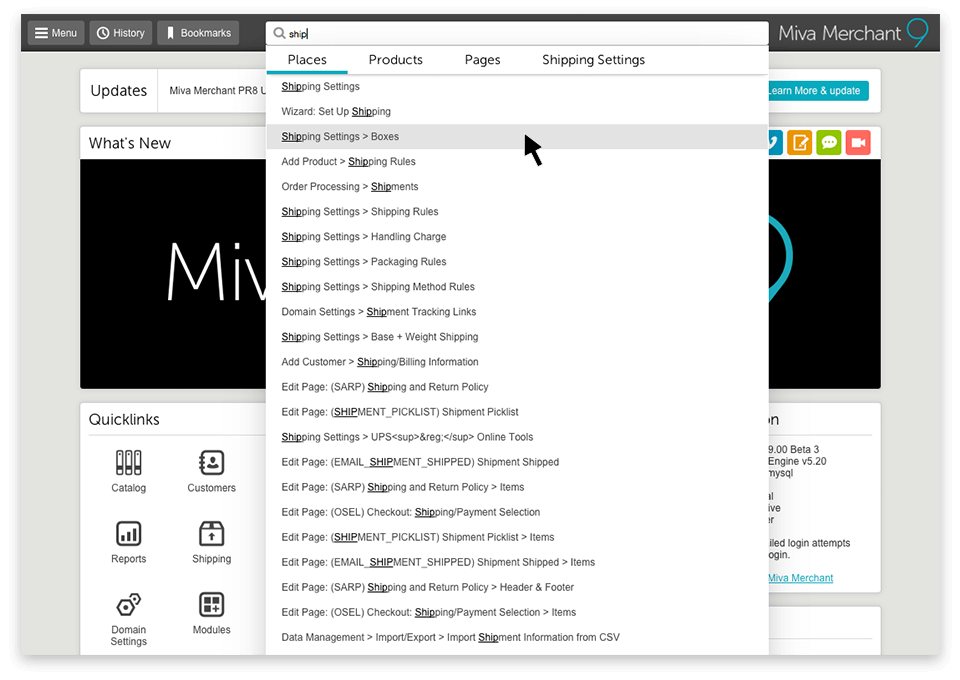 Plus more than 100 new additional features
Coupons
Miva Merchant 9 introduces built-in support for coupons. Each coupon has a unique code and applies one or more price groups (and their associated discounting rules) to a basket. Coupons have the following additional features:
Configurable validity date range
Configurable maximum number of total uses
Configurable maximum number of uses per shopper (based on billing email address)
Coupons may be restricted to a specific customer or customers
The software can batch-generate unique coupon codes, optionally assigning each unique coupon to a specific customer account.
Updates to Basket and Invoice components
Display of a single product image within the basket
Control over discount display
Control over coupon application
New Batch Lists
Lists can be navigated via Pagination or Infinite Scroll mode
Advanced search options
Settings are remembered per user
Visible columns can be controlled
Column positions and size may be changed
CSV export of list data
Inline editing of multiple records is now supported
Add-on Product
Automatically adds a single product to the basket at a discounted price when the discount criteria are met
Buy X Get Y
Provides "buy x quantity", "get y quantity" at a discounted rate
Fixed Discount
Applies a fixed discount amount to one or more items or the basket subtotal
Percentage Discount
Applies a percentage discount to one or more items or the basket subtotal
Specific Sale Price
Allows the sale price of items to be overwritten with values specific to the price group being applied
Shipping Discount (Entire Order)
Discounts shipping rates for the entire order
Shipping Discount (Eligible Products Only)
Discounts shipping rates for eligible products within an order
Volume Pricing
Discounts items based on the quantity purchased
New Google Analytics Module
Supports Universal Analytics and enhanced ecommerce tracking
Amazon Payments - now supports synchronous authorization
Template Based Emails - Now support BCC
Better handling of assigning images to variant parts
Two-Factor Authentication
New Image Library & Image Picker
Infinite Scroll & Pagination for all Lists
Touch Optimized Admin UI for Tablets
Error Messages
CSS Style Resources
Discount Features
Plus more than 260 bug fixes
Need Help?
Have Questions?