Wishlist, Registry & Saved Baskets

Whether you want a private wish list for yourself or you want a public registry for a special occasion, Miva Merchant can now store multiple wish lists, registries and saved baskets in this new update.
Watch Video
Order & Customer Notes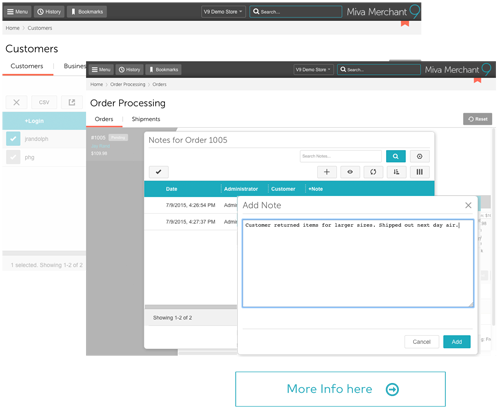 See The Full Picture
With Miva's new Order Notes your team can add notes for anything special with the order and keep track of all customer communication. Everyone on your team has access to all the relevant information at their fingertips.
In addition to order notes, you can now keep notes at the customer level and business account level.
Automatic Order Notes
In addition to manually adding notes to orders, you can optionally choose to have Miva automatically track different actions to an order. This includes changes to what was ordered, shipping status and returns and exchanges.
Watch Video
Business Accounts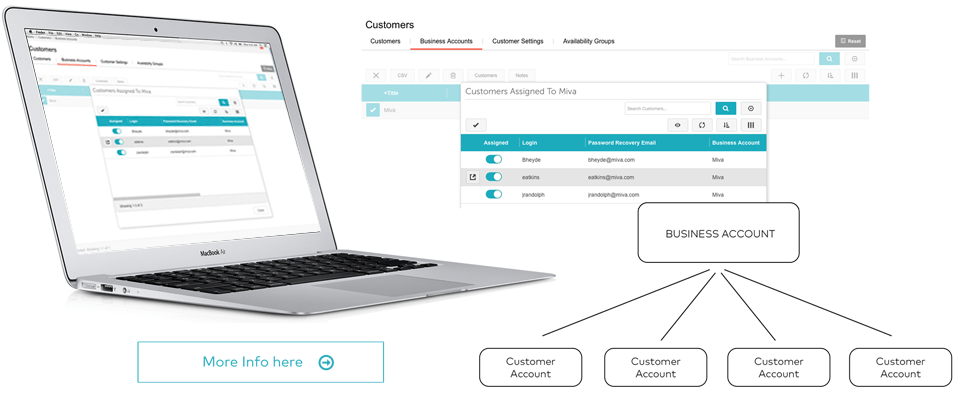 Business Accounts are a brand new account type in Miva that allow you to group multiple customer accounts into a higher level business account. This allows you to group different customers from the same company together and do things like give a discount to an entire business account which impacts all the customers assigned to that account.
Improved Customer Management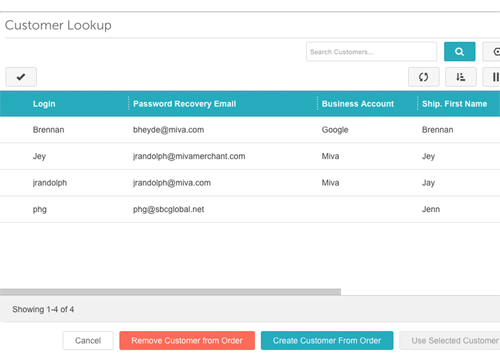 You can now lookup any customer account and using the new Orders tab, view only their orders. You can also edit those orders exactly like as if you were in Order Processing.
Miva now makes it simple to assign a customer to an order or even create a new customer account for an order with a few clicks.
URI Management & 301 Redirect Manager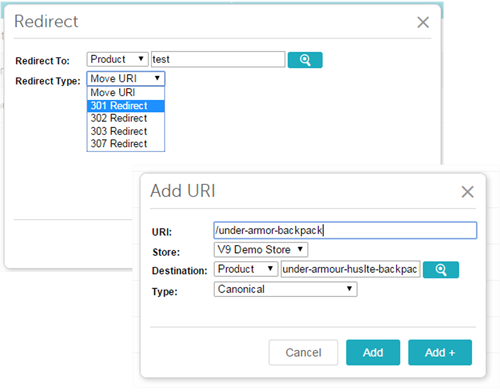 Miva now offers the most advanced URL & Redirect Management tools for any Ecommerce platform.
Features Include:
Custom root level URLs with no need to have a product/category identifier
Multiple URLs for a single product which redirect back to the canonical URL
Automatic 301 redirects should you need to change any of your URLs

New Controls for Page Titles & Cascading Meta Tags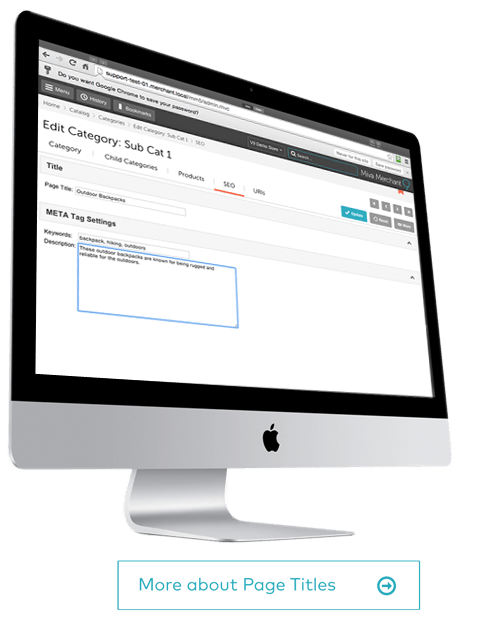 Miva now has a new SEO tab for all pages, products & categories where you can easily manage page titles and Meta tags from a single location.
Meta Tags are now "smart" Meta tags allowing Miva to automatically use global, page or category specific meta tags for pages that does have them explicitly set.
Watch Video
Support For UPS Freight & UPS SurePost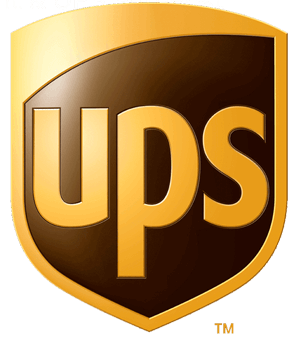 Miva now natively supports UPS Freight Methods as well as UPS SurePost. Enabling them is as simple as checking a box.
UPS SurePost® Less Than 1 Lb
UPS SurePost® 1 Lb Or Greater
UPS SurePost® Bound Printed Material
UPS SurePost® Media
Support For FedEx One Rate
FedEx One Rate is flat rate shipping that does not require you to weigh or measure shipments under 50 lbs. With FedEx One Rate you can add to the box without adding to the price.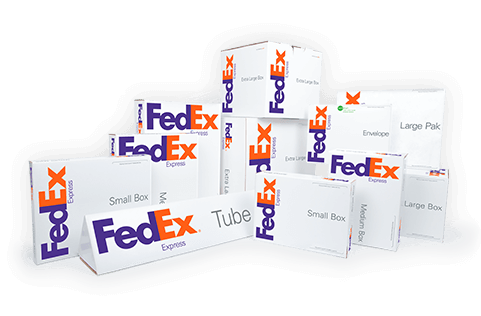 FedEx Express® packaging available in 12 different sizes
Time definite 1, 2 or 3 day delivery backed by FedEx's money back guarantee
Declared value up to $100
End-to-end visibility with world-class FedEx® tracking
Simple online shipping, with or without an account, with FedEx Ship Manager® Lite
Up to 45,000 drop-off locations when you print your label online
Child Categories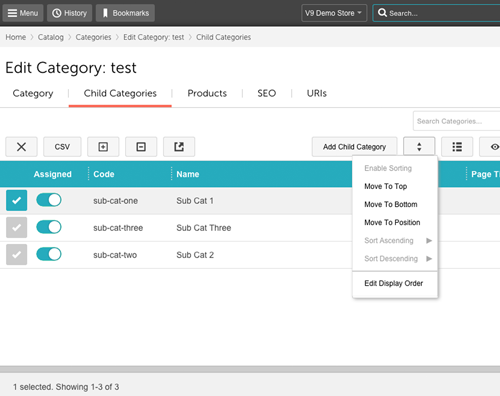 Working with categories and sub-categories just got a whole lot easier. Now, when viewing a category there is a new "Child Categories" tab which allows you to view, manage and sort subcategories for that category.

Watch Video
Adaptive Design Using Client Dimensions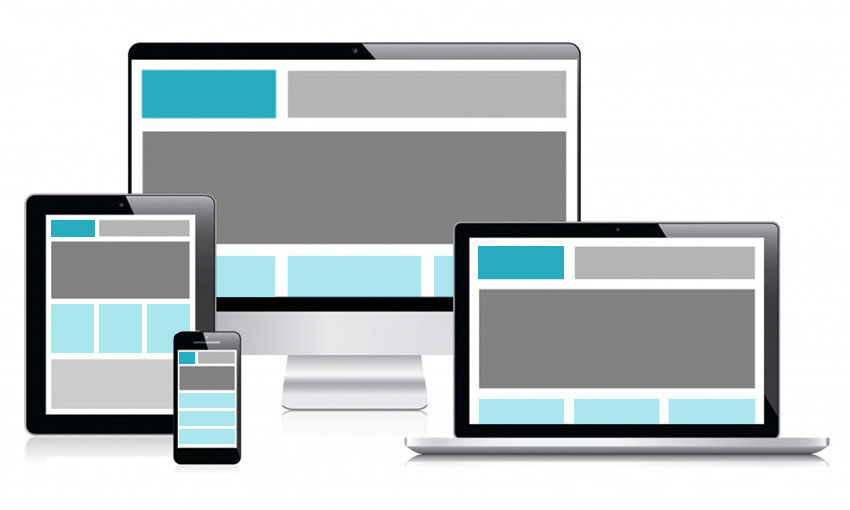 Client Dimension allows you to take your responsive website to the next level. It is a native module that makes the screen dimensions of the device being used to view your store available in the template code. This allows you to add or remove different parts of your website based on the screen size of the device your customer is using and at the same time improve page load times.
Need Help?
Have Questions?