Annual sales revenue shoots from $0 to $250K without any growing pains.
Forward-thinking platform features offer personalized experiences for different audiences.
Responsive design eliminates the need for a separate mobile site.
Business Overview
---
Fashion designer Liesl Gibson founded Oliver + S in 2007 to produce patterns for stylish children's clothing. After initially selling patterns to fabric retailers, the company transitioned to a business-to-consumer (B2C) model which primarily sells directly to end-customers via their website.
Challenge
---
Oliver + S saw the wholesale marketplace shift in 2010 when the economic downturn caused retailers to stock less of their product in stores. At the same time, B2C sales were growing exponentially via the website. To survive this transition, Oliver + S required an ecommerce platform that was flexible enough to change with their business model, and powerful enough to handle explosive traffic and sales growth.
"Miva gives you complete flexibility in terms of design, and allows a much better degree of integration with other website elements under a single domain name."
– Todd Gibson | Managing Partner, Leisl + Co.
Choosing Miva
---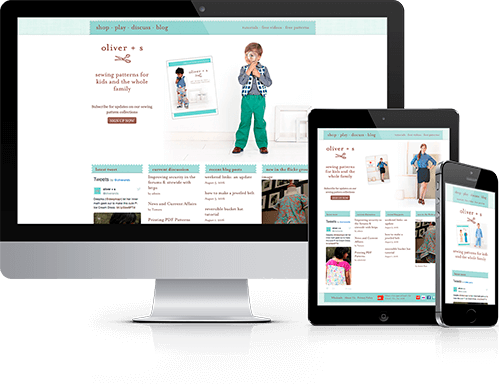 When Oliver + S launched their online business, they chose to build their site using Miva. "Miva has grown with us," Todd Gibson says, "and will continue to allow us to grow for years into the future."
Gibson says he looked at Yahoo Stores, Volusion, and Shopify, but none of these competing platforms allowed Oliver + S to create the customer experience they wanted to provide. "Miva gives you complete flexibility in terms of design," he explains, "and allows a much better degree of integration with other website elements. This has been so important for us, and has let us appear to be much bigger, better, and more trustworthy than if we had gone with another provider."
Solutions
---
In 2012 Oliver + S worked with Miva to launch an all-new version of their site that focused on connecting with the modern online shopper. "We realized our customers were coming to the site to view the blog and forums from their mobile phones and tablets," Gibson says, "so we wanted to make sure the shop could also accommodate users on those devices."
Oliver + S developed a site rebuild that incorporated responsive design across all of their website components, and worked with a Miva specialist to implement the framework which ensured the shop would work flawlessly across all devices.
While the majority of their business in now direct-to-consumer, Oliver + S still earns a quarter of annual revenue from wholesale customers. A key feature of their Miva ecommerce site is the flexibility to handle wholesale accounts via the website. "Miva allows us to set up price and availability groups," Gibson says, "which makes it easy for our wholesale customers to complete their orders online."
Results
---
"Miva is a solution that from the very beginning has been right in step with our growth as a company," Todd Gibson says. "We started with zero online sales, then watched those sales grow to $250k/year, as we've now transformed from a B2B to a B2C company. All of this was in response to changing dynamics in the marketplace, and we did it all with Miva as our platform."
"As a design company, branding and the user experience are very important to what we do," Gibson says. "Miva has allowed us to realize our vision in a way that no other platforms aimed at smaller businesses would be able to do, giving us powerful growth and flexibility options."
Like What you're Reading so Far?
Find out how you can get similar results for your store with a live product tour.
Free Product Tour
Need Help?
Have Questions?