Wherever you sell. However you ship. Exceptionally efficient.
ShipStation is the leading web-based shipping software that helps online retailers streamline their order fulfillment, wherever they sell and however they ship.
Company Overview
ShipStation is the leading web-based shipping software that helps e-commerce retailers import, organize, process, and ship orders efficiently from any web browser (including iOS and Android mobile devices) no matter their size. With over 150 shopping carts, marketplaces, carriers, and fulfillment services, including eBay, Etsy, Miva, Amazon, USPS, UPS, FedEx, DHL, and Canada Post (and so many more), you can streamline shipping wherever you sell and however you ship.
Key Features
Easy onboarding: ​With ShipStation, you'll be up and running in minutes–no implementation, installation, or insanity involved. That means you can import all your orders from just about any selling channel, create shipping labels, and ship packages out in a flash!
Automate Everything: ​Automate repetitive tasks, eliminate manual data entry, & reduce the risk of human error with ShipStation's customizable automation features. Save countless man-hours by printing shipping labels & packing slips by the hundreds using ShipStation's batch processing capabilities.
All Your Orders in a Single Platform: Our solution integrates with over 200 shopping carts, marketplaces, package carriers, integration tools, system integrators, & fulfillment services. Plus, you can add an unlimited number of selling channels to your account. With ShipStation, there's no need for several different solutions; everything you need for order management is in one place.
Grow your business: It's not just about saving you time, money, grief, and frustration. ShipStation's value is also about freeing you up to focus on growing your business. It's about creating easy opportunities to expand your market by doing things like adding more sales channels. ShipStation empowers you to sell more and scale your business, without you having to worry about being able to handle larger order volumes.
Always Keep Your Brand Front and Center: ShipStation allows you to infuse your brand into every element of the post-purchase experience. With ShipStation you can easily brand the tracking page, returns portal, emails, shipping labels & packing slips.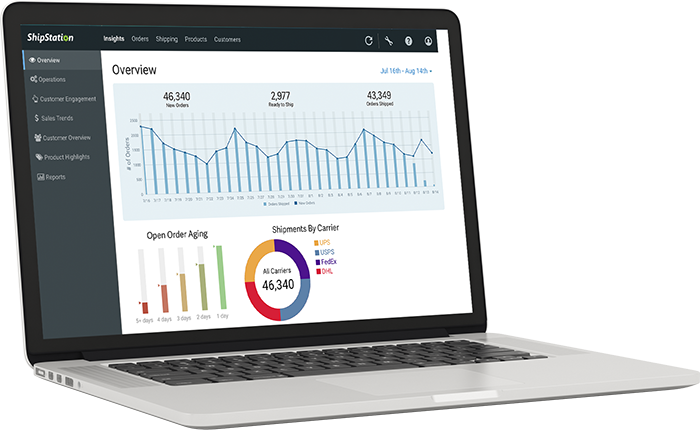 Get started with ShipStation
Ready to start saving time & money on your shipping process? Click below to start your free 30-day trial.
Sign Up Now