Become a Fearless Commerce Leader. Optimize Revenue. Eliminate Fraud.
With cybercrime and devastating data breaches on the rise, it's easy to give in to fear. Learn how to protect your business while supporting commerce across channels, across borders and with seamless checkout.
Company Overview
Guaranteed fraud protection is the customer-first solution. Signifyd leverages big data, machine learning and expert manual review to provide a financial guarantee against fraud on approved orders. This effectively shifts the liability for fraud away from ecommerce merchants, allowing them to increase sales and open new markets while reducing risk.
Key Features
Commerce Network: Signifyd's global retail data network enables better decisions. Ship more.
Seamless Authentication: Customer-first design ensures no friction in the buying experience. Grow CLTV.
Artificial Intelligence: Advanced machine learning beats SLAs & benchmarks. Instant Decisions.
Liability Shift: Signifyd's financial guarantee allows automated fulfillment. Zero Liability.
Integrate Order Flow: Leverage ready-made plugins.
Receive Decisions: Get instant decisions for 99.5+% of your orders.
Automate Back Office: Signifyd's financial guarantee allows you to fully automate order fulfillment.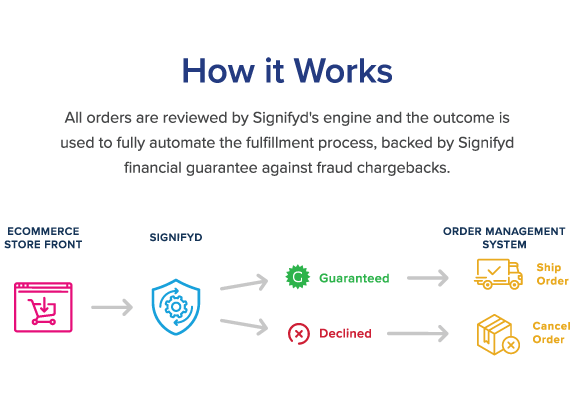 Get started with Signifyd
Earn the Customer. Maximize the Conversion. Protect the Experience.
Chat with us about fearless commerce.
Contact Us